HAPPY INTERNATIONAL DAY OF MEDICAL PHYSICS (7th November 2022)

Αγαπητά μέλη,
Από το 2013 η 7η Νοεμβρίου, η ημέρα γέννησης της βραβευμένης με Νόμπελ Φυσικής και Χημείας Marie Sklodowska-Curie, έχει καθιερωθεί και γιορτάζεται ως η Παγκόσμια Ημέρα Ιατρικής Φυσικής. Η φετινή επέτειος έχει ως θέμα "Medical Physics for Sustainable Healthcare" και θα γιορταστεί με δωρεάν διαδικτυακό σεμινάριο που διοργανώνεται από τον Παγκόσμιο Οργανισμό Ιατρικής Φυσικής.
Για εγγραφή, ακολουθείστε τον πιο κάτω σύνδεσμο.
https://us02web.zoom.us/webinar/register/WN_tdErztcIRDKDHUG8l4y3AQ

Σας κοινοποιούμε επίσης τα εκπαιδευτικά προγράμματα για το έτος 2023 που διοργανώνει το European School for Medical Physics Experts. Για περισσότερες πληροφορίες ακολουθείστε τον πιο κάτω σύνδεσμο:
Computed Tomography (Prague, Czech Republic, 26th-28th January 2023)
Stereotactic Body Radiotherapy (Prague, Czech Republic, 13th-15th July 2023)
Artificial Intelligence in Medical Physics (online course from December 2022 and "face to face" October 2023)
https://www.efomp.org/index.php?r=pages&id=esmpe-upcoming-editions

Τέλος, το πανεπιστήμιο του King's College London έχει ανακοινώσει τη διοργάνωση εκπαίδευσης μικρής διάρκειας με θέμα "Positron Emission Tomography (PET): Technology and Application" από 17-19 Απριλίου 2023.
Για περισσότερες πληροφορίες ακολουθείστε τον πιο κάτω σύνδεσμο.
https://www.kcl.ac.uk/short-courses/positron-emission-tomography-pet-technology-and-application
Με εκτίμηση,
Από την ομάδα του Σ.Φ.Ι.Κ – ΣΥΛΛΟΓΟΣ ΦΥΣΙΚΩΝ ΙΑΤΡΙΚΗΣ ΚΥΠΡΟΥ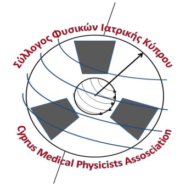 "I was taught that the way of progress was neither swift nor easy." – Marie Sklodowska-Curie
http://cympa.org/wp-content/uploads/2018/12/logo-2.png
0
0
Eleni Skouridi
http://cympa.org/wp-content/uploads/2018/12/logo-2.png
Eleni Skouridi
2022-11-07 07:28:57
2022-11-07 07:28:57
HAPPY INTERNATIONAL DAY OF MEDICAL PHYSICS (7th November 2022)