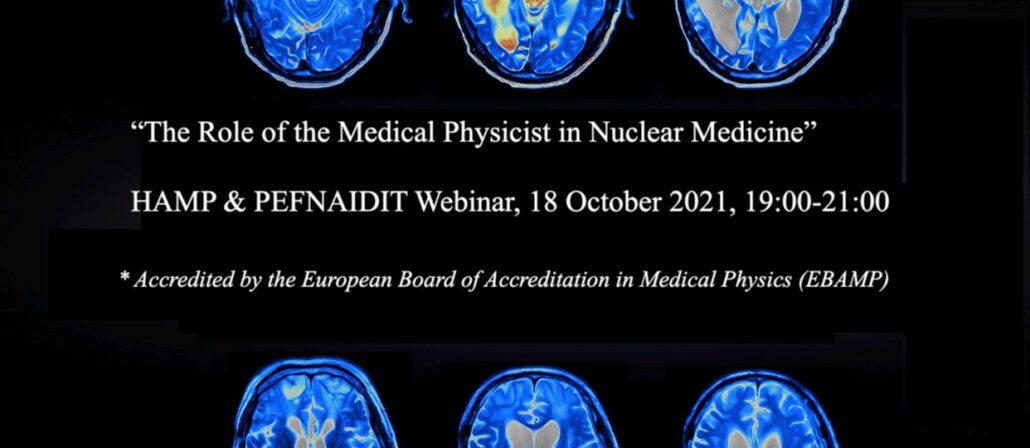 Αγαπητά μέλη,
Επιθυμούμε να σας ενημερώσουμε για το εκπαιδευτικό διαδικτυακό σεμινάριο με θέμα "Ο ρόλος του Ακτινοφυσικού στην Πυρηνική Ιατρική" τη Δευτέρα, 18η Οκτωβρίου 2021 στις 19:00-21:00.
To σεμινάριο διοργανώνει η Πανελλήνια Ένωση Φυσικών Νοσοκομείου-Ακτινοφυσικών Ιατρικής Δημοσίου Τομέα (ΠΕΦΝΑΙΔΗΤ) σε συνεργασία με την Ένωση Φυσικών Ιατρικής Ελλάδος (ΕΦΙΕ) και έχει μοριοδοτηθεί από την European Board of Accreditation in Medical Physics (EBAMP).
Στο σεμινάριο θα παρουσιασθούν η υπάρχουσα κατάσταση, οι μελλοντικές απαιτήσεις καθώς και οι ευκαιρίες που προκύπτουν από την εφαρμογή του νέου κανονιστικού πλαισίου ακτινοπροστασίας.
Ακολουθεί σχετικό πρόγραμμα και σύνδεσμος Microsoft Teams: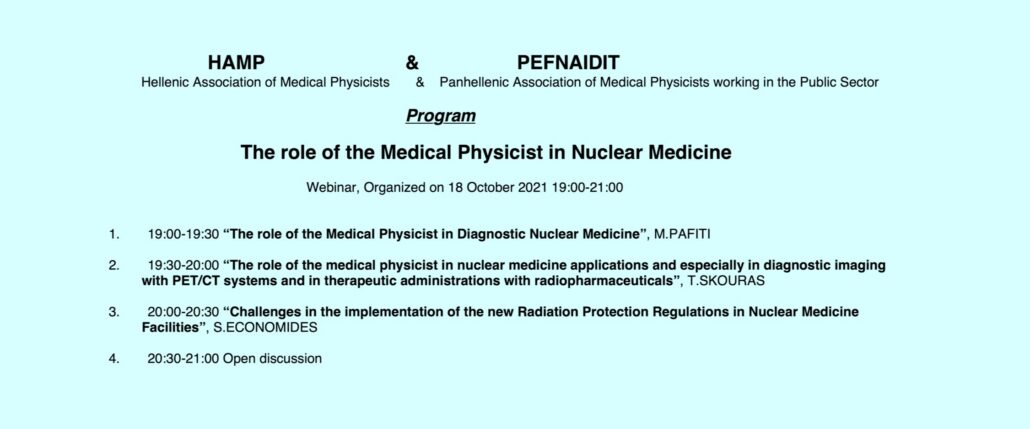 https://teams.microsoft.com/l/meetup-join/19%3afca3568a150b4ab1898d85413efa4a5e%40thread.tacv2/1634241685664?context=%7b%22Tid%22%3a%223180bf70-17cc-44f6-90a4-5c9476625295%22%2c%22Oid%22%3a%222f9c0257-f9db-45a3-85e8-917ba2114994%22%7d
Με εκτίμηση,
Από την ομάδα του Σ.Φ.Ι.Κ – ΣΥΛΛΟΓΟΣ ΦΥΣΙΚΩΝ ΙΑΤΡΙΚΗΣ ΚΥΠΡΟΥ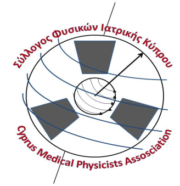 http://cympa.org/wp-content/uploads/2018/12/logo-2.png
0
0
Eleni Skouridi
http://cympa.org/wp-content/uploads/2018/12/logo-2.png
Eleni Skouridi
2021-10-16 21:16:26
2021-10-16 21:34:04
WEBINAR: The Role of the Medical Physicist in Nuclear Medicine